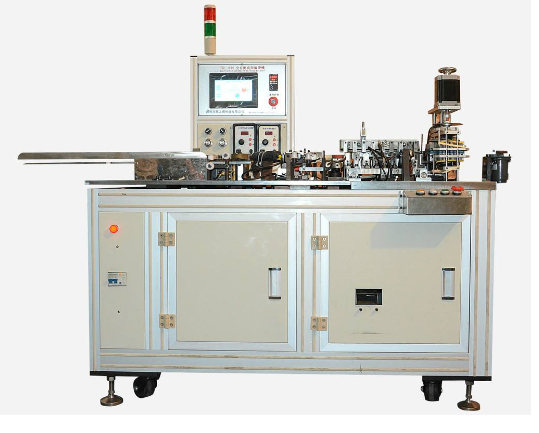 Details
Product name: horizontal to vertical taping machine
Detailed description:
Product parameters:
Power supply: 220V/50HZ/1.6KW
Use air pressure: 4—5Kg/cm2
Production speed: 180-230pcs/min
Pitch/Aperture: 12.7mm (standard pitch)/4.1mm (other hole pitches can be customized according to requirements)
Forming pitch: 2.5mm 3.5mm 5.0mm
Braid height: 17mm -21mm
Packing method: boxed
Specifications of processed products: horizontal braid products
Mechanical size: 2200L*1200W*1500H (mm)
Machine weight: 700-900/ Kg

Machine features:
1. Square rack feeding tool, precision fixture of special material, accurate center line, more convenient specification change, no pinching of product, integration of forming mold, accurate forming size, quick disassembly and assembly.
2. The frame is made of imported aluminum alloy, corroded, beautiful and durable.
3. The servo control system replaces the traditional clutch, effectively solving the mechanical failure of the clutch, reducing equipment maintenance costs and making maintenance easier.
4. All cams are imported with original packaging, and the grinding precision is up to 0.01mm. Low noise, stable high-speed operation, and the service life of the equipment can reach more than 15 years.
5. The touch screen is used to operate the man-machine interface, the most stable PLC control system in the world, the data is highly concentrated, and the operation is simple.
6. Step-by-step transmission, belt removal, bending, more stable performance, longer life and higher efficiency.

Applicable Products:
Axial resistance, inductance, diode, fuse, etc. turn to vertical braid.